Determining Window Size

How to Measure Your Window Opening
It is very important to measure the window opening correctly. You want to be detailed about the height, width, level and square.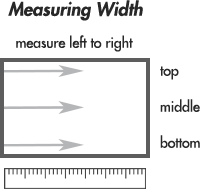 To measure the width of your existing window opening, start to measure the window frame in three areas. Begin with the top of the window, left to right, then the middle, left to right, and then the bottom, left to right. Use the smallest measurement for final your measure.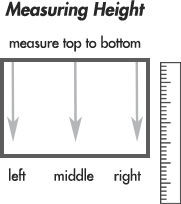 When measuring the height of the window opening, measure the window frame in three areas. Begin with the left side, top to bottom, then the right side, top to bottom, then in the middle, top to bottom. Use the smallest measurement for your final measure.
If you have a rough opening of 28"w x 32 1/2"h the window should be 27 1/2"w x 32"h
Painting Your Window

Proper Tools & Techniques
The windows should have one primer coat and two coats of paint.
You can use any sealing primer.
For the paint, either Acrylic (water-based) or Alkyd (oil-based) works fine.
Prime the wood first with the sealing primer by running the paint slightly onto the glass. This will seal all the frame work from rain water and will prevent the finished coat of paint from being absorbed into the wood ensuring a even gloss or sheen on the finished product.
Using either the Acrylic or the Alkyd paint, paint the wood using the same process as you previously did with the primer allowing to dry thoroughly between coats of paint.
You should apply at least two coats of paint.
Every 3 to 4 years apply a new coat of paint to your windows.

Frequently Asked Questions

Things to Know Before You Order
How long will it take to manufacture my order and ship it?
Our current turn around time frame is up to 5 weeks. This is from date orderd to date delivered. Orders will be shipped once manufacturing has been completed and you will receive a email notification of the shipping/tracking information.

What payment methods do you accept?
Visa, American Express, MasterCard, Discover, Bank money orders or personal checks (Personal Checks need to clear the bank before manufacturing the item).

Is a RUSH custom order available?
No, please contact us.

What does "upgrade" mean?
Changes to our normal window profile, contact us for pricing.

Can a transom be used vertically?
Yes
Do your sashes have a nailing flange?
No
Are there architectural designs available?
Not at this point in time.
Can we visit your shop?
Yes, our hours are Monday - Thursday 7 AM to 5 PM
Do you make bow top style windows?
No
What type of glass is used in the sashes?
We use single strength clear glass.

Can I request other types of wood for my custom order other than white pine?
We can now manufacture our windows using Douglas Fir, Red Cedar, and Mahogany! Simply choose your wood in the Window Builder.

What type of window grill is used for the sashes and transom windows?
We make true divided lites.

Can I order my window with safety glass?
Yes we can! Please call for pricing.

Do you make window kits?
No

Do you offer beveled muntin profile?
No, our muntin profile is a quarter round.

Do your windows have pulley systems?
No, customers can add their pulley systems to the windows.

Do you make casement windows?
No, we can make the sash and a customer can make the sash into a casement window unit.